SME R&D Tax Relief Reform: New PAYE Cap
The new PAYE cap will prevent fraudulent R&D tax relief claims by limiting the payable tax credits to £20,000 plus 300% of the total PAYE & NIC liabilities. The changes to R&D tax credits rules will be implemented from 1st April 2021.
Companies seeking to claim R&D tax credits must be mindful of the new PAYE/NIC cap. The new rule is aimed at companies abusing the R&D tax relief scheme, but could also affect small and medium-sized innovative companies with low payroll costs.
Why the PAYE cap was introduced?
The number of R&D tax credit claims has been growing over recent years, especially now that more companies submit applications because of the COVID-19 pandemic. The increasing popularity of the scheme has also attracted many rogue companies abusing the R&D tax credits incentive.
So far, HMRC has prevented over £300 million of fraudulent claims. This includes non-commercial arrangements designed to gain a greater R&D tax relief claim, cases without present R&D activity and companies claiming despite little employment or activity in the UK.
To tackle this issue, HMRC has introduced a PAYE cap designed to reward only genuine innovative companies. The proposed new legislation to limit the amount of relief available is to ensure there is no abuse.
It's not the first time a cap has been introduced. Previously there was a PAYE cap of 100% on the payable tax credit which was removed in 2012 to simplify the R&D tax credits scheme.
How are SMEs affected?
The new rule will only affect small and medium-sized enterprises. The cap is designed to restrict the amount of payable tax credit available 'in line' with a company's PAYE and National Insurance Contributions (NICs) costs. 
The SME payable tax credit must be over £20,000, it will not affect companies claiming payable credit below the threshold. 
These changes apply to the companies claiming under the SME scheme only, not RDEC. Also, the company needs to be in a loss-making position and looking to surrender losses to receive payable tax credits. This does not apply to profitable SMEs with a Corporation Tax liability. 
The HMRC states that this change should not affect the companies undertaking R&D. However, there will be some SMEs negatively affected by the cap introduction. Especially small companies and start-ups in the technology and IT sector with a few employees and low PAYE and NIC liabilities.
Example of payable R&D tax credits cap
To recap, the limit is only in play when looking at companies claiming payable tax credits. The amount of the cap is equal to £20,000 plus 300% of a company's PAYE and NICs liabilities for that year.
Here's an example of how this looks in the practice.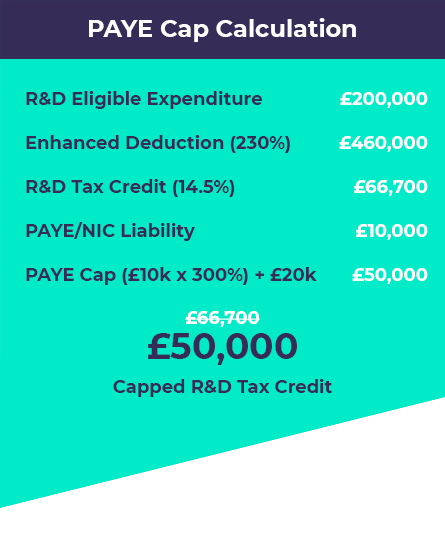 Company A can claim £66,700 of payable tax credits. Its total PAYE and NIC costs were £10,000. 
Therefore, the cap is (£10,000 x 300%) + £20,000 grace amount = £50,000
Company A can only claim £16,700 less of what would previously be claimed. They carry the balance of losses forward.
But there are certain protections introduced to protect genuine SME R&D tax claims.
Who is exempted from the cap?
By default, a company's claim is exempt from the cap automatically if a claim is less than £20,000. This is beneficial for SMEs with a few employees or directors taking limited salaries or bonuses.
Any claim size is exempted if it meets two of the following conditions:
Condition A:

Employees are creating, preparing to create or managing Intellectual Property (IP) because of the R&D project.

Condition B:

Less than 15% of R&D expenditure is on sub-contracted costs to connected companies or paying externally provided workers (EPWs) to carry out R&D.
Small companies that are not part of a group and maintain control of their IP are likely to meet the exemption.
This is going to require closer scrutiny for groups of companies, where costs are split between them. For groups, the cap is calculated cumulatively, but cannot be doubled up for the cap.
So what happens next?
G2 Innovation sees this as a positive change regarding the prevention of abuses of the incentive. Nevertheless, this may have negative consequences on smaller companies submitting R&D claims, potentially decreasing their entitlement by thousands of pounds.
The new cap on R&D tax credits will come into force from the 1st April 2021. Companies with accounting periods that straddle that date will need to split their payable tax credit calculation between pre-1st April 2021 and post-1st April 2021.
If you are confused or unsure about how the new cap will affect your R&D claim, get in touch. One of our R&D tax credits specialists will advise how your business is affected by the PAYE cap and how you can get the most out of the R&D tax credits. 
Read more: