Is R&D Tax Relief Too Good To Be True?
Even though R&D tax relief has been available since 2000, we still have clients ask us if it is legitimate. It can sound too good to be true, but trust us R&D tax relief is the real deal.
On average companies who successfully claim R&D relief get between 26% and 33% of their development expenditure back. You get money back for every pound you spend and with the average claim standing at £54,000, it's definitely not something to be sniffed at.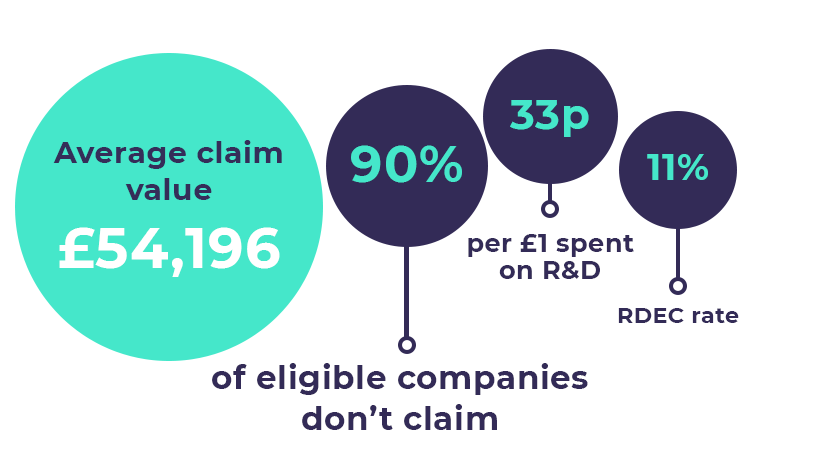 It's also true that huge amounts of R&D tax credits are left unclaimed every year, allowing overseas competitors to steal a march in R&D and innovation.
What is R&D Tax Relief?
R&D tax relief is a government incentive that supports companies working technological or scientific advancements in a variety of sectors. 
Companies may receive payable tax credits or see their corporation tax bill reduced significantly. 
Who benefits from research & development tax relief?
The HMRC Research and Development Tax Credits statistics came out last year and the future looks bright for R&D in the UK, with year on year growth of claims since the incentive started.
Tax credits were launched in 2000 in a bid to support businesses to innovate and create new products. It appears to be working. Since the launch, there have been an estimated 335,600 submissions, with a total £26.8bn claimed.
The number of claims from SMEs jumped dramatically with the removal of the £10,000 limit in 2012/13. 
We're pleased to see claim numbers increasing every tax year. An ever increasing number of people are aware of the scheme and the improvements made by HMRC over the last 20 years make it more and more favourable for businesses.
Improving R&D Tax Relief Rates
From introduction, successive governments have made the R&D relief rates more attractive in an effort to incentivise businesses to develop new products.
The R&D tax relief rates have consistently improved under all political parties, evidencing a recognition that this is a valuable tool for stimulating the economy.  At the same time the criteria for research and development expenditure has been expanded, making it an increasingly attractive proposition.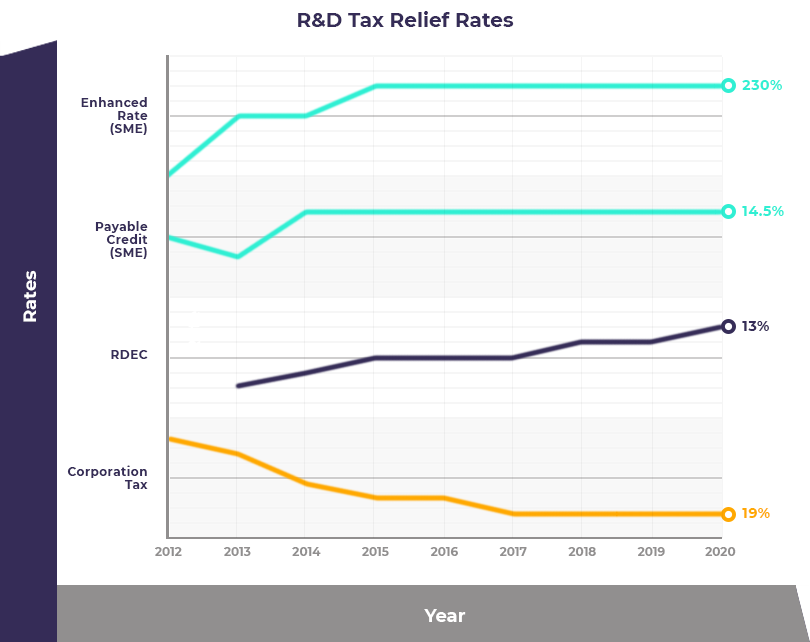 2020 R&D Tax Relief Rates:
SME – 130% Enhancement Rate

SME – 14.5% Payable Credit

RDEC – 13% of Qualifying Expenditure

Corporation Tax – 19%
You can even claim if your project is unsuccessful. If your work demonstrates the mere attempt to overcome a level of uncertainty, whether successful or otherwise, it is likely to be eligible.
R&D tax relief continues to be available to an increasing number of UK businesses. The recent government announcement of £22bn investment in innovation by 2024-25 will boost research and development activities even further across the nation. 
Is R&D Tax Relief Just For the UK?
The UK is not on its own on supporting industry with an R&D relief. Every major economy has an equivalent scheme.  Rewarding and supporting innovative companies that invest in product development is therefore an important part of keeping pace with the global economy.  
There is a general recognition that manufacturing is cheaper in the Far East. To compete with low-cost manufacturing, companies are adding value through design and innovation – resulting in the creation of the knowledge economy.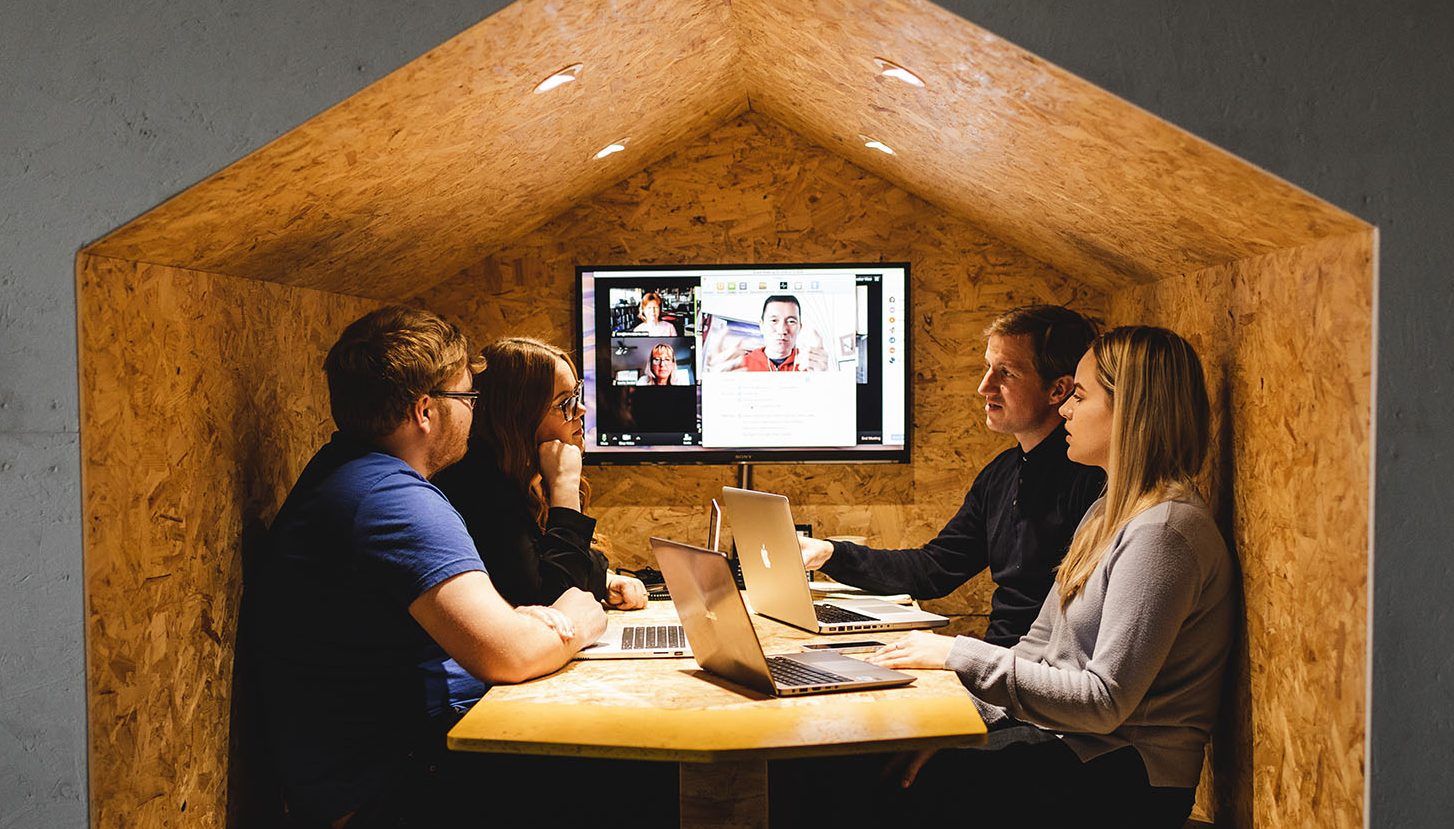 If your products are being made in the far east, or indeed anywhere else in the world, you may still be able to claim tax relief. The government recognises that costs for development are incurred by the UK company.
R&D Claims Based on Area & Business Type
There has been little change to the high concentration of businesses claiming in London and the South East. Combined, they account for 36% of all R&D claims and 49% of the total R&D spend. That's a huge amount of cash focused in the south of England.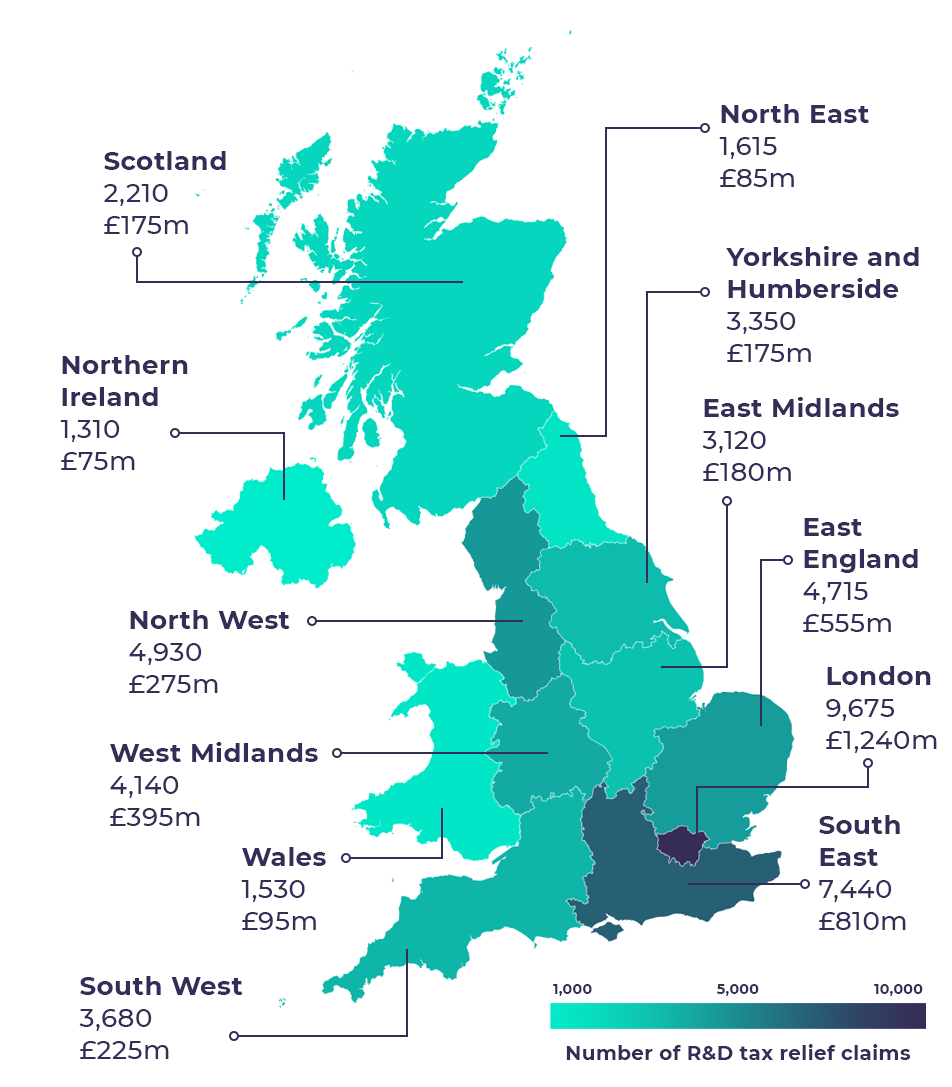 However, HMRC does state that this may not be an entirely true reflection as the location of claim isn't necessarily the same location as the research and development.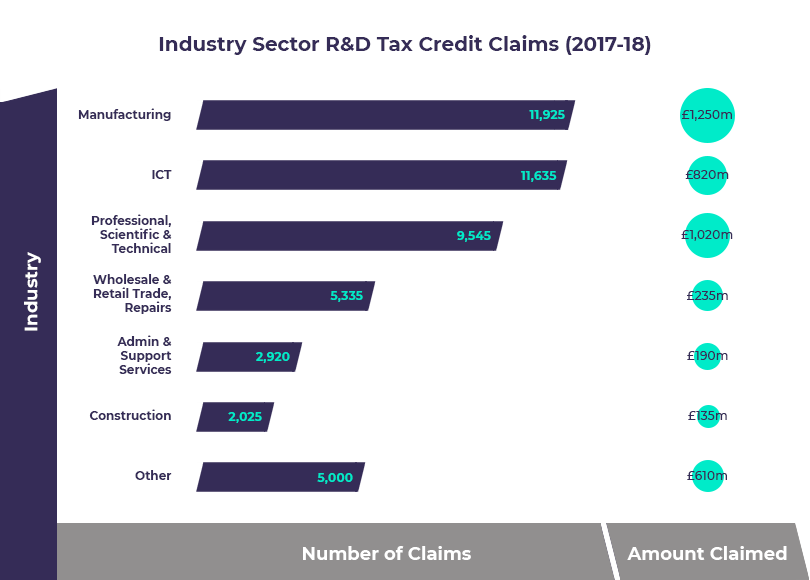 "It's fantastic to see the upturn in R&D claims. We've certainly seen a rise in larger businesses claiming since the move to RDEC, and we've been dealing with more start-ups. Although we deal with clients internationally, we would like to see more businesses where we are based, in the Midlands, taking up this offer. UK manufacturing is now 8th in the world, and a recent report by The Midlands Economic Forum pointed to the West Midlands outperforming the rest of the UK due to the strength of its manufacturing. However, R&D claims don't reflect this, with Midlands businesses still leaving money on the table, with the largest claims coming from the South East & London." David Eilbeck, Managing Director – G2 Innovation
Read more: How Many HMRC R&D tax claims are being made in your region? >
R&D Tax Relief Examples
Example of projects and activities that may be eligible for R&D tax relief include:
Industry Project Examples:
Typical qualifying R&D Activities:
Development of a new process;

Innovating product design;

Research of new material;

Identification of a new way for material use;

Improvement of a system performance;

Development of a prototype;
Making a R&D Claim With G2
When it comes to claiming R&D tax relief the biggest challenge is knowing what costs are eligible. It's not just about tax; there also needs to be an understanding of the technical nature of your work and very few advisors are fully proficient in this area. 
Over the past decade we have worked with companies across a variety of industries including; software, robotics & automation, agriculture, quarries, food, aerospace and gas & oil.
We've been doing this for a decade now and have a 100% success rate, which makes us feel pretty proud! 
Is your business eligible for R&D tax relief? Give us a call on 0115 842 0402 and we can tell you!
Read more: Claim R&D Tax Credits >