Essential Guide to R&D Tax Credits
This is an essential guide for anyone who's looking to claim R&D tax credits in 2020.
Do you want to claim R&D tax credits?
Here, you'll learn exactly how to grow your business with a government incentive that rewards innovative UK companies.  
This new guide will cover the essential aspects of R&D tax relief, including:
Eligibility
Qualifying expenditure
SME and RDEC schemes
Calculating entitlement
Claim process
Choosing specialists
Lots more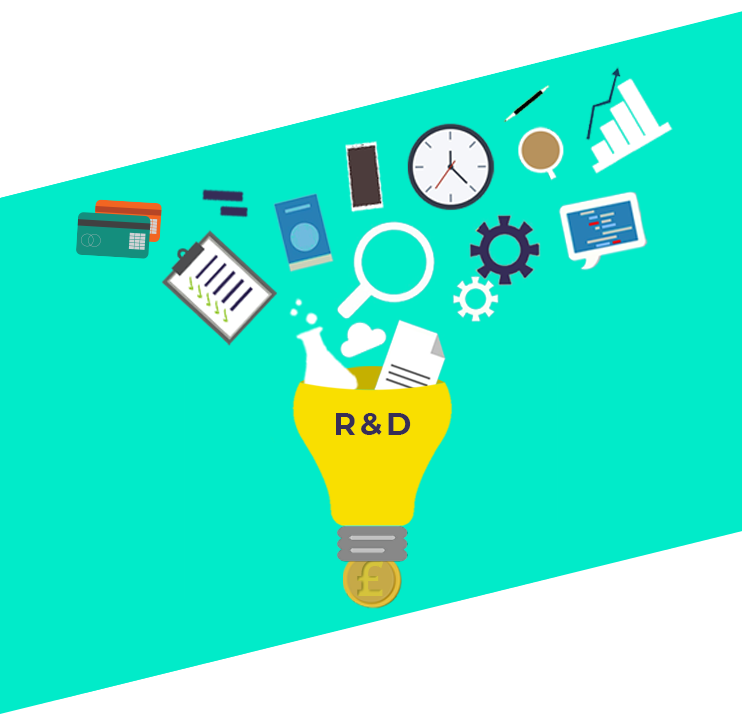 Guide Contents
Keep on reading to understand R&D tax credits, or jump ahead to the section that interests you most.
Research and development tax credits are a business incentive where companies operating in the UK are rewarded for their spending on R&D activities.  
The research and development (R&D) tax credits scheme was set up in 2000 and is a vital Government incentive, supporting individual businesses and helping the UK economy to grow through innovation.
£34.8bn
Total R&D expenditure.
90%
UK eligible companies don't claim.
£89700
Average R&D tax relief claim.
The scheme has improved significantly since its inception, with the rate of relief increasing consistently and restrictions being relaxed.
According to HMRC over £4.3bn was claimed last year, corresponding to £31.3bn of R&D expenditure. 48,635 R&D tax credit claims were made for 2017-2018 (latest statistics). 
Regardless of the outcome of an R&D project, the scheme allows companies to claim up to 33% of the R&D expenditure as Corporation Tax reduction or as a cash payment as long as you've paid some tax, either Corporation Tax, or PAYE/NIC.
Read more: Is R&D Tax Relief Too Good To Be True?
Select your sector
Manufacturing
Professional, Scientific & Technical
ICT
Wholesale & Retail Trade
Construction
Admin & Support
Agriculture
Health & Social Work
Manufacturing Sector
£50,657
Average R&D Tax Claim Value
£12,930
Number of Claims
Put simply the scheme enhances your development costs, reducing the profits you declare and therefore the amount of Corporation Tax you pay.  So the value of the scheme is in the tax saving you make.  
You're able to claim for the last two financial years and so if you haven't made a claim before you should be able to get a cash refund for those years. If your company has already paid the tax, then you'll receive a rebate from HMRC. 
The scheme also benefits loss-making companies with either increased future tax savings or a payable tax credit. 
Once you've made your initial claim you can also keep using the scheme every year (as long as you're doing eligible work) to reduce your tax liability going forward.
The potential benefit varies depending on the level of R&D investment, Corporation Tax paid and whether the company is an SME or a Large Company. 
Any limited company from any industry, whether profitable or loss-making, can benefit. As long as it is doing eligible work such as developing new products, technology, processes or services. 
HMRC use this fiscal lever as a tool to stimulate investment in innovation in the UK, which is proven to be key for growth and future economic prosperity.
The incentive applies to companies of all sizes including loss-making and profit-making companies, and you can claim back as cash the tax you have overpaid in the previous two years.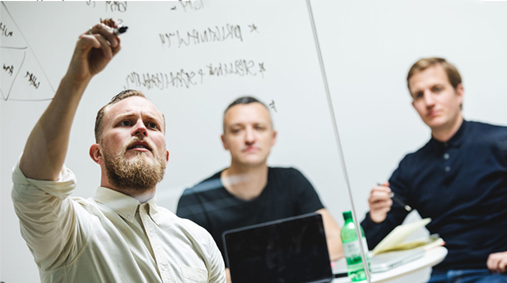 Benefits of R&D tax credits:
The application process is simple. It typically takes around 6 – 8 weeks for you to receive funds once your claim is approved;

You can claim on R&D activities for the current and previous two financial years and receive between 8.4p and 33p per pound spent on development;

Funds can be used in any way you see fit, many reinvest proceeds into further R&D;

No minimum claim value. The requirement to spend at least £10,000 a year on R&D was lifted in April 2012;

Eligible for loss-making companies;

Boosts the UK economy;
Limitations of R&D tax credits:
Inaccurate submission / inexperienced accountant may not claim full entitlement;

Claiming for ineligible costs will be flagged by HMRC which may result in audit and decline;

Doesn't apply to Limited Liability Partnerships (LLPs) and charities;
HMRC defines eligible R&D activities as work that leads to an advance in science or technology. This may sound daunting, though it's wider than you might think. 

Companies overcoming technical uncertainties, companies significantly improving existing products, and companies combining existing components in brand new systems are all examples of eligible work for R&D tax relief.
To be able to claim R&D tax credits, you must meet a few criteria: 
Developed or prototyped a new product or device;

Developed or improved software;

Spent money on R&D project;

Be a qualifying UK based company;

Be subject to Corporation Tax;
If you're unsure if your business or R&D activities qualify for tax relief, take this online R&D Tax Eligibility Quiz. 
When does an R&D project start and end?
It is essential for HMRC to know when an R&D project starts and ends so that the company claims the right amount of tax credits. Putting specific dates to this can be challenging but it is of course beneficial to capture all relevant activity.
1. Project Start
The project starts when work to resolve the uncertainty starts.
2. Project End
A project ends when that uncertainty is resolved or the work to resolve it ceases.
3. Post-Project
R&D can take place even after production starts.
Here's a breakdown of particular stages that may include qualifying R&D tax relief work.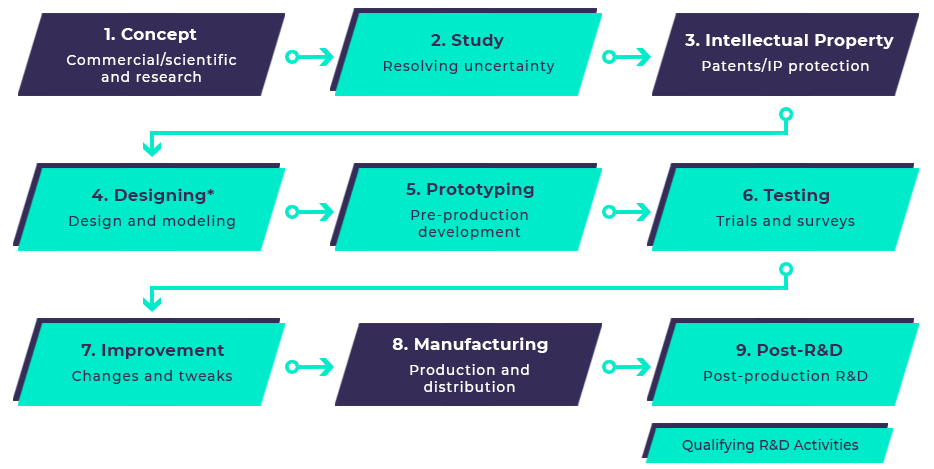 *Only technical design is eligible, if it's helping to overcome an uncertainty in the project.
Overcoming technical problems, improving existing products, or combining existing components into new systems can all be eligible work for R&D tax credits. 
This includes making something more efficient, adding more functionality, scaling it up, reducing its cost or its environmental impact.  
Knowing which projects and activities actually qualify for R&D tax relief is the area where most companies are looking for advice. This is important to maximise the claim value. 
It is not necessary for work to have been successful, so long as the aim would have been to achieve an advance. R&D is by its very nature risky and doesn't always succeed, so the effort taken trying to succeed can be included. Things that relate to qualifying indirect activities are also considered as R&D.
The costs that can be used include staff costs (gross employment costs), consumables such as materials and equipment, overheads such as heat, light and power, and finally subcontracted support, although this is claimed at a lower rate. Other costs such as support staff, administrative or clinical staff may still qualify for indirect R&D activities.
Read more: R&D Tax Relief Expenditure: Dividends, Salary and Bonuses?
What
CAN
be claimed for:
Utilities (Gas, water)
Salaries
Wages
Consumable item
Prototypes
Subcontractors
Software
Pension fund
What
CANNOT
be claimed for:
Rent
Travel expenses
Dividends
Recruitment
Production and distribution
Capital expenditure*
Cost of land
Patent and trademarks
*We can help you maximise your R&D tax relief entitlement with the Capital Allowances scheme.
SME
Companies classed as an SME are able to deduct an extra 130% of their qualifying costs from yearly profit, in addition to the normal 100% deduction which adds up to a total of 230% deduction. 
Tax relief can help SMEs support their continuing R&D activities. If a company is loss-making, in certain circumstances they can surrender their losses in return for an R&D tax credit payment worth up to 14.5% of the surrenderable loss.
RDEC
Large companies can claim RDEC (R&D Expenditure Credits). The RDEC scheme is less generous than the SME scheme, paying up to 11% of their eligible R&D expenditure as a cash payment instead of deduction from taxable profits. 
For loss-making large companies, tax credits are fully payable but subjected to certain restrictions.
SMEs on the RDEC Scheme
The SME scheme is not available to companies that are receiving any other notifiable State Aids for the same project. In certain situations, SMEs are able to claim via RDEC if they are involved in subcontracted or subsidised research for a large company, or because of a grant or subsidy.
Qualifying eligible expenditure under RDEC without reducing the value by the grant received is a potential way of claiming R&D tax credits.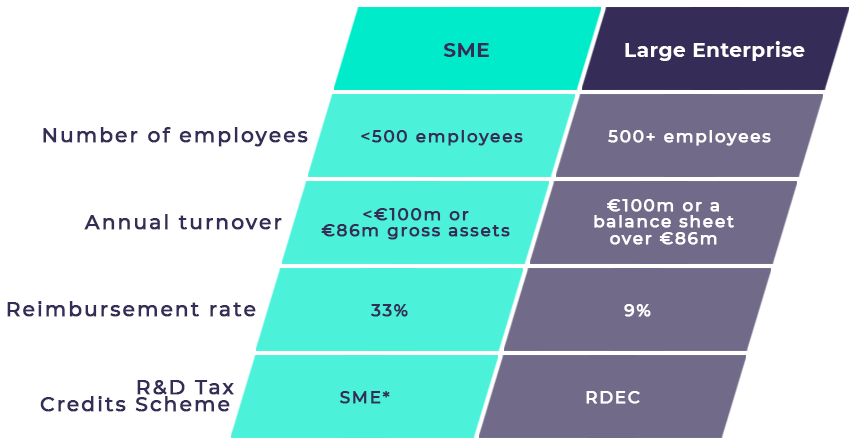 *There are some exceptions that will require SME to use the RDEC scheme or both to make a claim.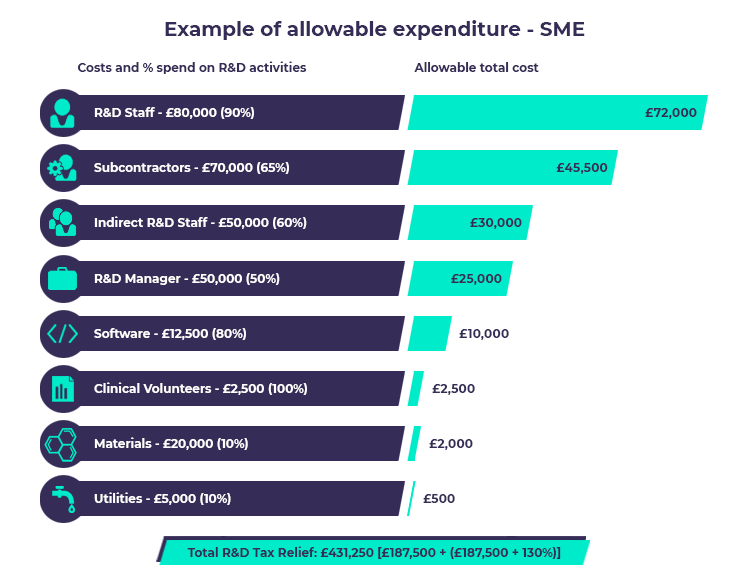 R&D Tax Credits Claim Example
Sector – Manufacturing
Project – Sustainable Packaging
A West Midlands SME produces a range of packaging for perishable food goods. The scientific and technological advance was in resolving the uncertainty in the development of sustainable packaging solutions as an alternative to plastic containers. 
The qualifying R&D activities included staffing expenditure, consumed materials, utilities and subcontracted work.
Their last claim resulted in a payable tax credit of £68,678 and we provide ongoing guidance to them to ensure their efforts are eligible for future claims.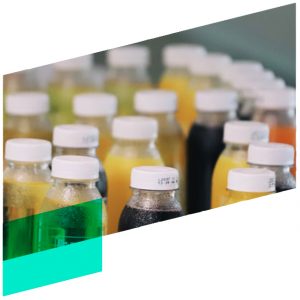 Read more: R&D Tax Relief Case Studies
R&D Tax Credit Calculator
The easiest way to calculate R&D tax relief is by using the calculator. Click here to access a more advanced version of the R&D tax credits calculator.
SME Calculation Example
As a simplified example; If an SME had engineers working exclusively on R&D and paid them of total of £250,000 per year, they could use the scheme to effectively record that cost at £575,000 (230% x £250,000). The additional £325,000 of expenses would mean the company's taxable profit would go down.
The calculation shows how this affects a profitable company: £49,375 from corporation tax savings and the payable tax credit. In total there would receive back 19.75% of their R&D costs.
If you are not eligible to claim the relief as an SME, you might still be able to claim under the RDEC scheme.
Read More: R&D Tax Credit Calculation Examples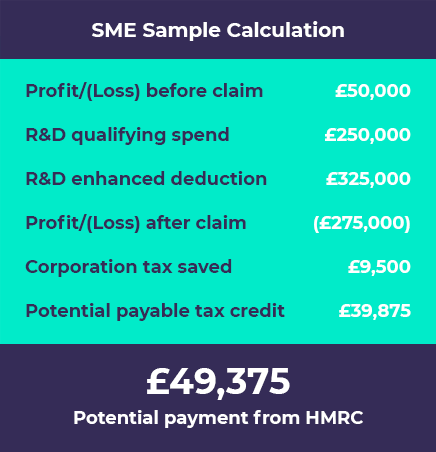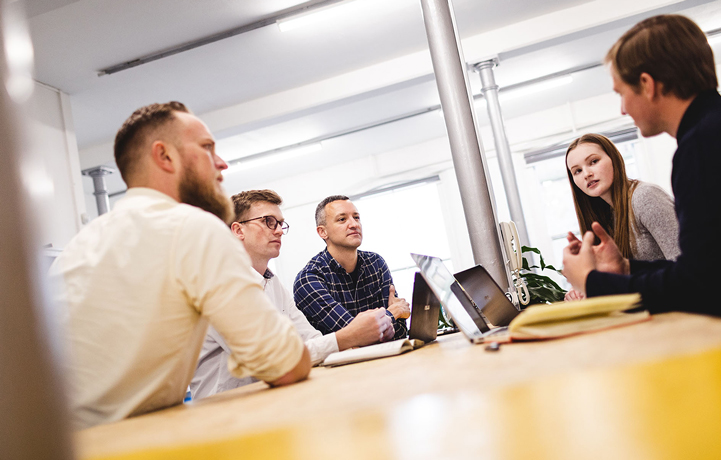 Making the actual claim can be a complex process, which is why R&D tax consultants like us are here to help you. It pays to be aware of all the elements you can claim for so you can maximise your relief amount. 
Our process is simple and there are only 4 steps to successfully complete a claim.
Initial call

– Usually a short phone call to establish whether work undertaken is eligible for R&D tax activities.

 

Building an application

– Identifying details of all qualifying activities and processes and writing up the technical narrative. 

Submission to HMRC 

– Providing the tax relief value and completed technical and financial documentation to HMRC.

 

Receive benefit

 – Once the document is reviewed and process by HMRC, you'll receive your entitlement.
We've been successfully claiming for our clients for 11 years and have a 100% success rate. 
Read more: Claiming R&D Tax Credits
Things you need to support your R&D tax relief claim?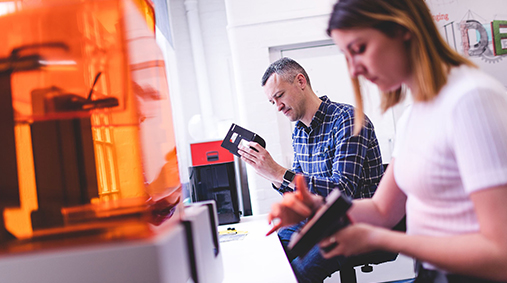 To start the claim, you'll be required to provide supporting evidence that that will allow you to put the claim forward.
All of the above is taken into consideration and required to make the claim process as efficient as possible.
Project Records

– A summary of your undertaken R&D project in the form of a short should be kept to support your claim. With focus on the advances and the uncertainties rather than info about the finished product.

Expenses Records

– A breakdown of the expenses that are eligible for a relief.
Staff Involvement

– Individuals with hands-on technical input on qualifying projects.

Timing Frameworks

– Proportion of time involvement on the project relating to R&D activities.

UTR

– 10 digit company unique tax number.
Sometimes companies are mistakenly advised by their accountants that they are not doing eligible work. This is an understandable situation as while accountants tend to boast excellent financial expertise, they may not fully grasp the nuances of R&D tax legislation or, critically, technology and how it is developed. 
R&D Tax Experts
Technical knowledge;

Understand R&D legislation;

Advise on R&D capital allowances;

Payment by results only;

Professional and fully managed claim process;

Liaise with HMRC on your behalf; 

Maximise claim value;
Accountants
Understand your business structure;

Payroll pricing;

General tax and financial knowledge;
A poorly submitted R&D tax relief claim can lead to an HMRC audit, with the possibility of losing an entire tax credit. As R&D tax specialists, we'll make sure that only eligible work is included, and we will capture all the eligible costs.
GET IN TOUCH    0115 824 0402
G2 – an award-winning R&D tax claim consultancy
We have developed a process that takes the minimum of your time and is fully supported by HMRC.  Our team of industry experts and tax advisors have a 100% success rate and work on a payment on a results basis, with absolutely no setup fees or expenses charged.  
Claim with G2
Our process is simple and easy. We quickly tell you whether you are eligible. And if so, we handle all the writing, preparation and submission of your R&D claim. 
We're not just tax advisors, we also develop technology. This expertise puts us in a unique position among R&D tax specialists and enables us to identify and defend development work which may not present itself as eligible to accountants or other providers.
GET IN TOUCH
• 100% success rate
• Zero claims rejected by HMRC
• Over 12 years of experience
• Payment by results only
• No long-term tie-ins
• Fully managed service
• Technology specialists
• 6 – 8 weeks to claim
• Award-winning service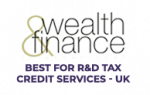 Is our intellectual property protected when making a claim?
Can I claim R&D tax relief and a grant?
How long will it take to receive an R&D tax credit?
Which industries qualify for R&D tax relief?
What areas of company activity count as R&D?