Budget 2021: Impact on Innovative Businesses and R&D
Chancellor Rishi Sunak has announced the latest changes designed to stimulate UK economic recovery. Alongside these measures, there were changes that will affect innovative companies.
The government still sees R&D as an essential part of the UK economy and will continue to support innovative companies. In fact, a new target was set to raise the total investment in research and development to 2.4% of UK GDP by 2027.
Although Budget 2021 was primarily focused on the pandemic recovery, there were some announcements that will affect the investment in R&D. 
Here are the key highlights:
Corporation Tax –

The CT rate will increase from 19% to 25% from 1st April 2023 on profits over £250,000.

Further loss relief –

Companies incurring losses between 1 April 2020 and 31st March 2022 will be able to carry these losses back by up to 3 years.

SME PAYE Cap

–

Previously announced PAYE cap on SME claims will come into force as planned from 1st April 2021. 

R&D Tax Consultation

– The government has launched a wide review consultation of R&D tax credits that will run until 2 June 2021.

Data and cloud computing

– Part of the consultation will review additional eligible expenditure for software related R&D tax relief claims.

Super-Deduction

– A new 130% first-year capital allowance for companies investing in plant and machinery assets from 1 April 2021 to 31 March 2023.

Future Fund: Breakthrough

– Coming in early summer 2021, a new £375m scheme aimed at innovative companies designed to accelerate the R&D.  
Corporation Tax Changes
One of the biggest announcements was the increase of the corporation tax. 
For companies exceeding £250,000 profit, the corporation tax rate will rise to 25% from 1st April 2023. If profits do not exceed £50,000 the standard corporation tax rate of 19% will apply. Anyone between these profit thresholds will have a marginal rate. 
The new rate will negatively affect large companies claiming RDEC. It's unfortunate that the government has not increased the R&D tax relief rate, as this change will reduce the total benefit of the RDEC incentive which is subject to the corporation tax. 
SMEs claiming R&D tax relief will be also impacted. The existing scheme is designed to reduce the profit by the enhancement of eligible R&D expenditure by 230%. Therefore, the benefit received could increase as the claim reduces the amount of the company's profit. 
Loss-making SMEs looking to surrender their losses may want to reconsider their R&D tax credits claim, as the rise in corporation tax will increase the amount of tax relief. This will present a choice between receiving 14.5% of payable cash now or 25% in future tax relief. However, this will mostly depend on the company's future profits.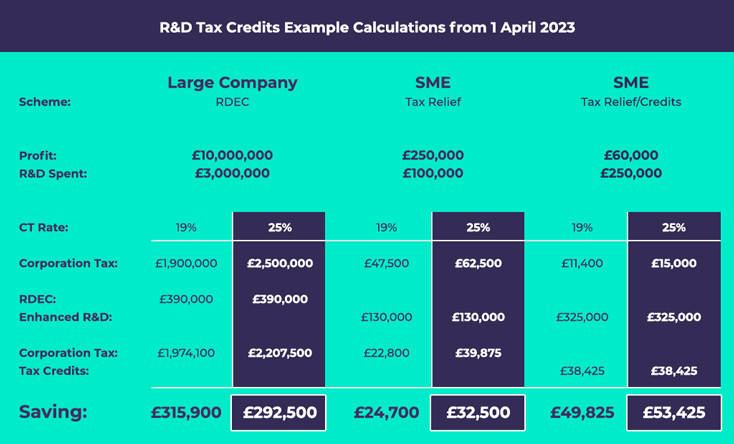 In addition, companies who have made losses between 1 April 2020 and 31 March 2022 will be able to carry these back by up to three years.  This is an extension to the one year carry back as it currently stands. There will be caps on the amount of this relief, which will be determined by the whether the company is part of a group or its size.
SME PAYE Cap from 1 April 2021
Previously announced PAYE cap that will affect SME R&D tax credit claims will be implemented as planned from 1st April 2021. 
The government's response to tackle the rise in fraudulent and abusive R&D tax claims will limit the payable R&D tax credits which companies can claim for a financial year. The cap will broadly restrict the cash credit to 300% of the company's total PAYE and NIC liability plus £20,000 grace amount. 
Launched R&D Tax Consultation
A lot of emphasis has been put on R&D as the key element supporting productivity and economic growth in the UK. 
The government is determined to raise the total investment in research and development to 2.4% of UK GDP by 2027. They have stated that R&D tax reliefs have an essential role in rewarding innovation but require a further review. 
"Launching a review of Research & Development tax reliefs to make sure the UK remains a competitive location for cutting-edge research."
The R&D Tax consultation will seek views from innovative companies in the private sector on the existing R&D tax credits schemes and will end on 2 June 2021. The review of the existing R&D tax credits and RDEC is essential to ensure that the schemes remain up to date and they effectively maximise the value of innovation.
During the consultation, the following are some of the areas that will be covered: 
To make sure that R&D tax relief is still up-to-date by reviewing its definition, eligibility, scope of the relief and how it interacts with the modern R&D.

To ensure that the current rates of relief and the difference in rates for RDEC and the SME scheme remain appropriate and internationally competitive.

To review how effectively the schemes are operating for companies and HMRC and identify areas for improvement. 
Data and cloud computing expenditure
R&D tax consultation will also review the expenditure of data and cloud computing and their eligibility for tax relief. The government recognises this category as an important area of R&D and considers including it within the scope of qualifying expenditure for the R&D tax relief. 
This is positive news and a big change for anyone investing in the research and development of data and cloud services. Potentially the expenditure could be worth 100% of the innovation costs, which will be very beneficial for R&D intensive software and IT companies.
"Super-Deduction"
Exciting changes for companies investing in new plant and machinery assets. From 1st April 2021 to 31 March 2023 anyone purchasing an eligible plant and machinery capital expenditures will benefit from 130% first-year. 
The companies will be able to cut their tax by up to 25 pence for every £1 invested in capital. This change will be of particular interest for many companies in the manufacturing and engineering sectors and businesses continuously investing in plant and machinery.
In addition, a separate first-year allowance was announced for special rate items which are not eligible for the super-deduction. Companies investing in these special rate items will benefit from a temporary 50% first-year allowance until 31 March 2023.
Future Fund: Breakthrough
A new scheme run by British Patient Capital, part of the British Business Bank designed to support R&D intensive companies. Future Fund: Breakthrough worth in total £375m will be launched in early summer 2021 and encourages investors to invest with the government in high-growth innovative companies seeking a minimum of £20m. 
If you are unsure how your business will be affected by any of these announcements or you need further advice on the upcoming PAYE cap for your R&D tax claim, get in touch with one of our R&D tax specialists for a free no-obligation consultation. 
Read more: